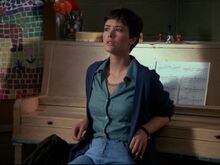 Mary Margaret O'Connell (born 1962), known as Maggie, is played by actress Janine Turner.
Maggie was born in Grosse Pointe, Michigan. She became a bush pilot at an early age and went to Alaska with her boyfriend Dave, who was writing a book on mountain climbing. He fell asleep unprotected on a glacier and froze to death.
Maggie remained in the small town of Cicely, Alaska, flying an air taxi and supplementing her income as the local real estate agent.[1][2] She serves a term as mayor of Cicely.[3]
Personality
[
]
Maggie is a strong-willed, independent feminist but also has a soft side. Her main role model is Amelia Earhart.[4] When she was a child she wrote a letter to herself and, later in life after rediscovering the letter, manifests her younger self.[5] She also wanted to be detective extraordinaire Nancy Drew.[6] She gets to be a Homecoming queen[7] and becomes obsessed with dust mites.[8] One of the earliest moments of tenderness from Maggie comes when she reads Shakespeare's Sonnet 116 at the funeral for the unknown man.  [9]
Family
[
]
Occupations
[
]
Bush Pilot
Air Taxi
Postal Worker
Courier
Mechanic [12]
Engineer [13]
Real Estate Agent [14]
Landlord [15]
Property Superintendent [16]
Entrepreneur [17]
Mayor [3]
Maggie owns her own Cessna 170 airplane and works on it several times [18][19] [5] ... and even put together a kit plane with her own modifications and other improvements. [20] Besides her handywoman skills, she also works on her pickup truck and snowmobile,[21] and helps Chris restore a Ford Model T. [22]
Love Life
[
]
She has a love-hate relationship with Joel, who she thinks she has sex with once, [23] [24] eventually does have sex with [25] ("forgets", but he reminds her: "last Tuesday in a barn at 1:46 PM"), [21] and even gets engaged to. [26] They finally agree they have a "mutually desirous incompatibility". [27] However, in the end, she ends up with Chris. [28] When she was growing up in Grosse Pointe, Jed liked her. [11] [29] She has a brief "spring fantasy fling" with a bear deity. [30]
Victims Of The "O'Connell Curse"
[
]
Maggie's past boyfriends all died in improbable accidents. Cicely residents attribute this to the "O'Connell Curse", though Maggie hates talking about it.
Steve Escandon was hit by lightning while photographing an oil rig for a corporation's annual report.
Harry ate tainted potato salad on a picnic.
Bruce had an unspecified fishing accident.
Glen took a wrong turn while driving his Volvo Car (according to Chris) onto a missile test range.
Dave took a nap on a glacier and froze to death.
Rick Pederson (a recurring character in season 1) was hit by a falling artificial satellite shortly after learning he did not have cancer.[31]
Since The Curse
[
]
On her 30th birthday, while camping next to a river, she gets sick and "meets" them all in a hallucination / vision.[32]
During season 4, Maggie has a brief relationship with Mike Monroe, a lawyer with Multiple Chemical Sensitivity. [33] In his case, the curse works in reverse: he is cured of his condition and inspires to practice environmental law. [34]
It is implied that Joel would have died from the curse if he stayed with Maggie. [35]
Maggie's mother may have the curse too. [36]
Address
[
]
P.O. Box 86 Cicely, Alaska 99729 - 0086.
References
[
]
Categories
[
]